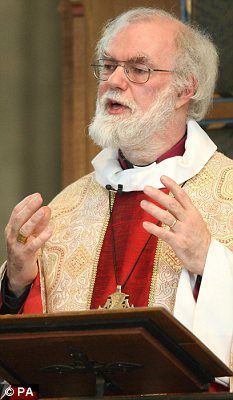 Hallelujah! Archbishop Speaks Up For Christians: This Bias Against Us Must Stop, Says Dr Rowan Williams
MAIL ONLINE: The Archbishop of Canterbury used his Easter sermon to launch an extraordinary pre-election attack on a 'sustained effort' to discriminate against Christians.
Dr Rowan Williams, who has faced criticism for his reluctance to defend traditional values, blamed ' wooden-headed bureaucratic silliness' for Christians being barred from wearing religious symbols at work.
He said there was now a 'strange mixture of contempt and fear' towards Christianity in Britain.
The Anglican leader's remarks came as senior churchmen mount a campaign to put Christian values at the heart of the election campaign.
Thirty-five religious leaders have unveiled a U.S.-style 'declaration of conscience' setting out policies that unite British churches, including opposition to assisted suicide and euthanasia.
They also appear to back Conservative proposals to support marriage in the tax system, which David Cameron is expected to give further details of this week.
While colleagues have been increasingly vocal in their protests, Dr Williams has up to now said little about discrimination against Christians.
But yesterday he highlighted the case of nurse Shirley Chaplin, who took the Royal Devon and Exeter NHS Trust to an employment tribunal claiming discrimination.
She refused to remove a necklace bearing a crucifix, saying it would undermine her faith. The trust claimed there were health and safety issues and a ruling is expected this week.
Addressing a congregation at Canterbury Cathedral, Dr Williams referred to 'yet another legal wrangle over the right to wear a cross in public while engaged in professional duties'.
He said: '[This is] one more small but significant mark of what many Christians feel is a sustained effort to discriminate against them and render their faith invisible and impotent in the public sphere.
'One more mark of the curious contemporary belief that Christians are both too unimportant for their convictions to be worth bothering with and too dangerous for them to be allowed to manifest those convictions.
>>>
James Chapman | Easter Monday, April 05, 2010