Tony Blair in Submission to God at Obama's Prayer Breakfast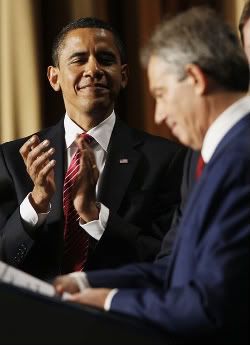 Have no fear, guys! God loves you both! God always loves the smuggest of His creatures! Obama and Tone in a God-love-fest at the National Prayer Breakfast. Photo courtesy of the Mail Online
MAIL Online: Tony Blair famously 'didn't do God' during his decade in Downing Street, fearing he would be viewed as a religious fanatic.
But the former Prime Minister lectured the world yesterday on the need to put faith at the heart of global affairs.
In an impassioned 'sermon' in the U.S. he made no fewer than 31 mentions of God, and declared: 'In surrendering to God we become instruments of his love'.
Blair Hails 'God's Love' in Extraordinary Speech as He Stands Alongside Obama at Prayer Breakfast >>>
By Michael Lea | Friday, February 6, 2009
TED IDEAS WORTH SPREADING: "An Atheist's Call To Arms" - Richard Dawkins
Hat tip:
European Alliance for Rational Thought >>>
YOUTUBE: God Bless Atheism!
YOUTUBE: The Rise of Atheism in America
The Dawning of a New Dark Age – Paperback (US) Barnes & Noble >>>
The Dawning of a New Dark Age – Hardcover (US) Barnes & Noble >>>